Workshops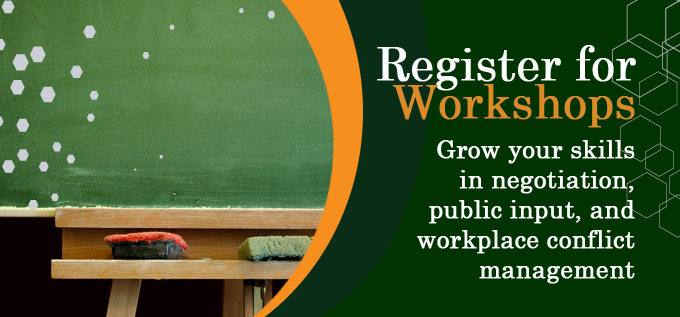 Overview
Workshop Series

NEGOTIATION SERIES - Learn how to get along with your municipal neighbours

WORKPLACE SERIES - Learn how to build high performing teams

PUBLIC INPUT SERIES - Learn how to manage controversial public issues and all types of public consultations

_____________________________________________

Municipal Dispute Resolution Services has partnered with municipalities across Alberta to host a variety of workshops to municipal staff, elected officials, and community leaders which enhance skills in negotiation, public input, and workplace conflict management.

Negotiation Series: Finding Agreement, Negotiating Effectively, Applied Negotiation, Essentials of Municipal Collaboration

Workplace Conflict Series: Workplace Conflict, Coaching for Conflict Resolution, Conflict Styles

Public Input Series: Public Input Design, and Group Facilitation

Registration & Information

Workshops cost $150 and include materials, lunches, and coffee service.

NOTE: Municipal Affairs will not provide listings of workshop participants from previous years.

Please follow these steps for workshop registration:

1. Select your workshop(s) and register online by clicking on the "register now" button (currently not available)

2. Open your registration confirmation email and click on the link provided to confirm the course information

3. Print off a copy of the attached invoice and submitt payment to either:

Alberta Association of Municipal Districtics and Counties
Attn:Wyatt Skovron
2510 Sparrow Drive
Nisku, AB T9E 8N5

4. Once payment is received, you will be notified by email that your registration is complete

Workshop registration will be taken on a first come basis and must be completed online no later than five days prior to each workshop. Workshops have a maximum of 20 participants. MDRS reserves the right to cancel workshops with fewer than 10 participants.

Cancellation

Registration cancellations must be made no later than five days prior to the workshop by following your email cancellation link or by calling Irene Black at 780-644-3124.

A $25 administration fee will be deducted from the refund.
Upcoming Workshops
Workshops are being reviewed and new workshop offerings will be announced here when they are finalized.
Workshop Testimonials
Here's what participants say about Municipal Dispute Resolution Services workshops:
"Very interactive... I really enjoyed being challenged with questions and being involved in the learning process"
"Great instructor, good venue, great value for time and money"
"I liked the casual style where everyone felt comfortable with asking questions and commenting. It made for a very open session"
"Excellent networking opportunity"
"It never ceases to amaze me the quality of education we receive for the buck"
Contact Us
Contact a member of our team if you have any questions about our programs and services.