New Municipal Government Act targeted for 2016
The Government of Alberta and representatives from AUMA and AAMDC signed an agreement that will see a revised Municipal Government Act review completed in 2016.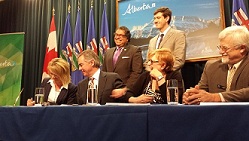 New Partnership Framework
The Government of Alberta and the cities of Edmonton and Calgary have signed a framework agreement to renew discussions around the development of Civic Charters that are intended to provide the cities with the legislative ability to pursue innovations and efficiencies to better serve their residents in a number of areas.
Better Home Warranty Standards
Every new home built in Alberta is now protected under warranty. Alberta's New Home Buyer Protection Act encourages even higher quality standards, making sure your new home stands the test of time.
Minister McQueen reminds Albertans to keep fire safety in mind
Fire Commissioner of Alberta Trent West, Minister of Municipal Affairs Diana McQueen, and Edmonton Fire Chief Ken Block demonstrate the importance of fire safety this holiday season.