New Municipal Government Act targeted for 2016
The Government of Alberta and representatives from AUMA and AAMDC signed an agreement that will see a revised Municipal Government Act review completed in 2016.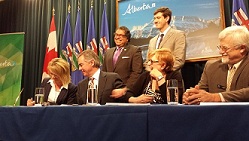 New Partnership Framework
The Government of Alberta and the cities of Edmonton and Calgary have signed a framework agreement to renew discussions around the development of Civic Charters that are intended to provide the cities with the legislative ability to pursue innovations and efficiencies to better serve their residents in a number of areas.
Do you have an open 2013 Southern Alberta flood Disaster Recovery Program application?
On January 24, 2015, the Province announced that 90 per cent of eligible funding will be advanced to Albertans with an open Disaster Recovery Program (DRP) file from the 2013 southern Alberta flood. If you have an open application, you will be contacted directly by DRP staff and they will help you through the process to close your file by summer.
Do you know how to safely extinguish a stovetop fire?
Take 30-seconds and learn. This year for Burn Awareness Week (Feb. 1-7), the Government of Alberta's Office of the Fire Commissioner has teamed up with the City of Edmonton's Fire Rescue Services to help share some simple and potentially life-saving cooking and fire safety tips.